Choosing impact protection
You have several options when choosing armour for impact protection. There are different standards, levels, and materials.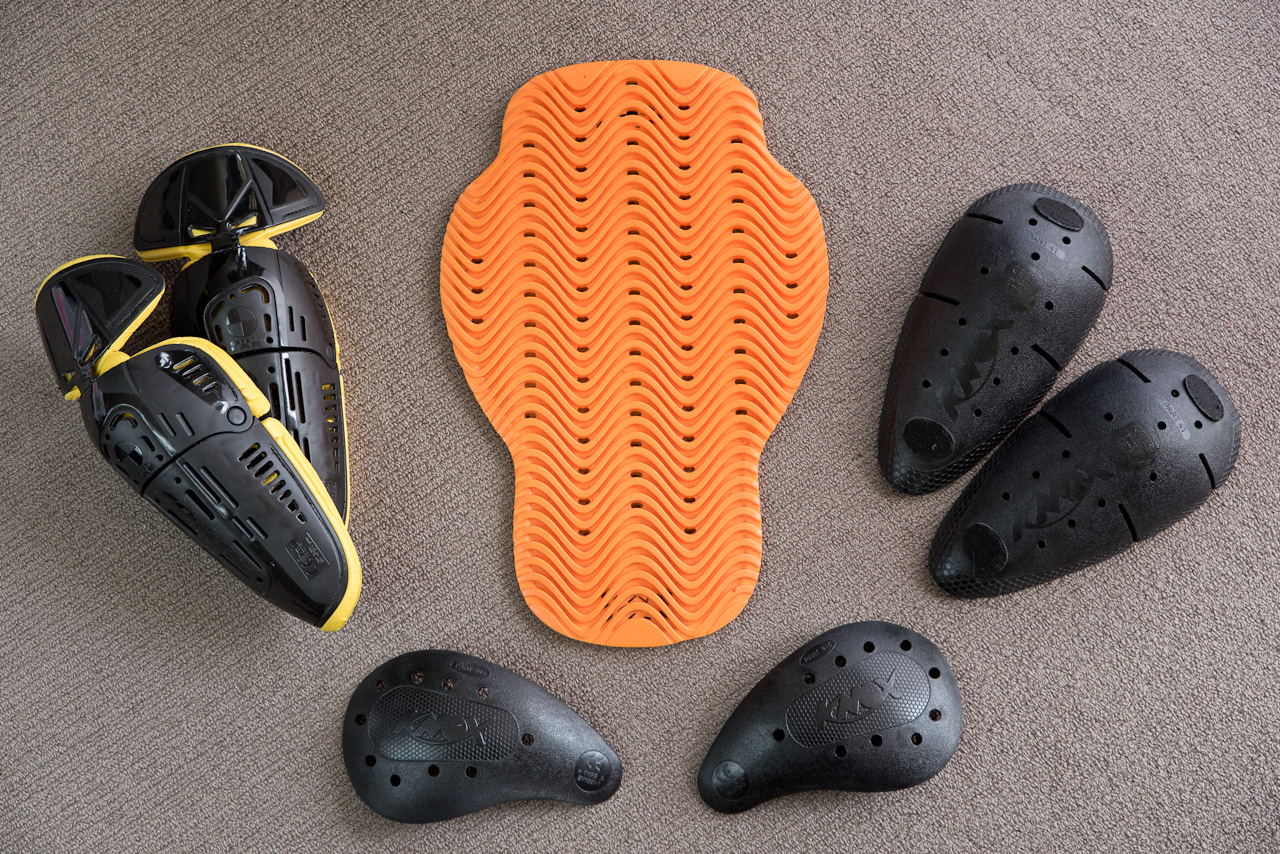 The EU has a proven, widely accepted set of standards for most personal protective equipment (PPE). This includes impact protectors for motorcycle clothing – EN1621. Different standards apply to different protectors, usually with two or three levels of protection.
Obviously, a higher level of protection is preferable to a lower one, but for reasons of bulk, weight and garment fit, sometimes a compromise must be made. And level one protection is a lot better than no protection at all.
Options for impact protection
Joint protectors
Whether slipped into a pocket in the garment or worn separately, elbow, shoulder, knee and hip protectors must meet CE standard EN1621-1. They're rated at three levels, from basic level 1 to extreme protection level 3.
Spine protectors
Next to a head injury, a spine injury is as serious as it gets. So, it's disappointing to see so many garments featuring a flimsy foam pad or no back armour at all.
Remember
Some types of armour are designed to only work once then be replaced. If you have a spill, check all your armour inserts carefully for damage.
The best spine protection comes from those worn as a vest or undershirt, because they usually cover a larger area than separate pads that slip into a pocket on the garment. Some will cover from right up high in the neck down to the tailbone and right across the back round to the sides. Of course, they can be bulky under your gear and hot on a sunny summer's day, but the protection is unrivalled.
Both vest-type and slip-in back protection is rated to the same standard of impact resistance – EN1621-2, with two rating levels. Less transmitted force is allowed than for joint protectors.
Chest protectors
Now becoming more common, chest protectors are measured to the same criteria as back protection – EN1621-3, with two levels.
Inflatable protection
Air bag suits and jackets should display the EN1621-4 standard.
Materials armour is made of
CE standards don't specify the materials used in armour, merely how they perform. So, you'll find impact protectors made of closed- or open-cell foam, memory foam, silicone, hard plastic, viscoelastic and composites.
The problem with harder foam armour is that it only works once, then needs to be thrown away.
Viscoelastic (D3O, SAS-TEC, EXO_TEC, etc.) has the advantage of being pliable in normal use, so it comfortably moulds around your joints. When subjected to an impact it hardens instantaneously by a chemical reaction. Composite armour also offers more comfort than less pliable materials.
Buying used armour
Armour is easy to inspect for damage. Foam inserts will be split or crushed if they've been in an accident. Other materials including composites should be fine if there's no crushing or other visible damage.